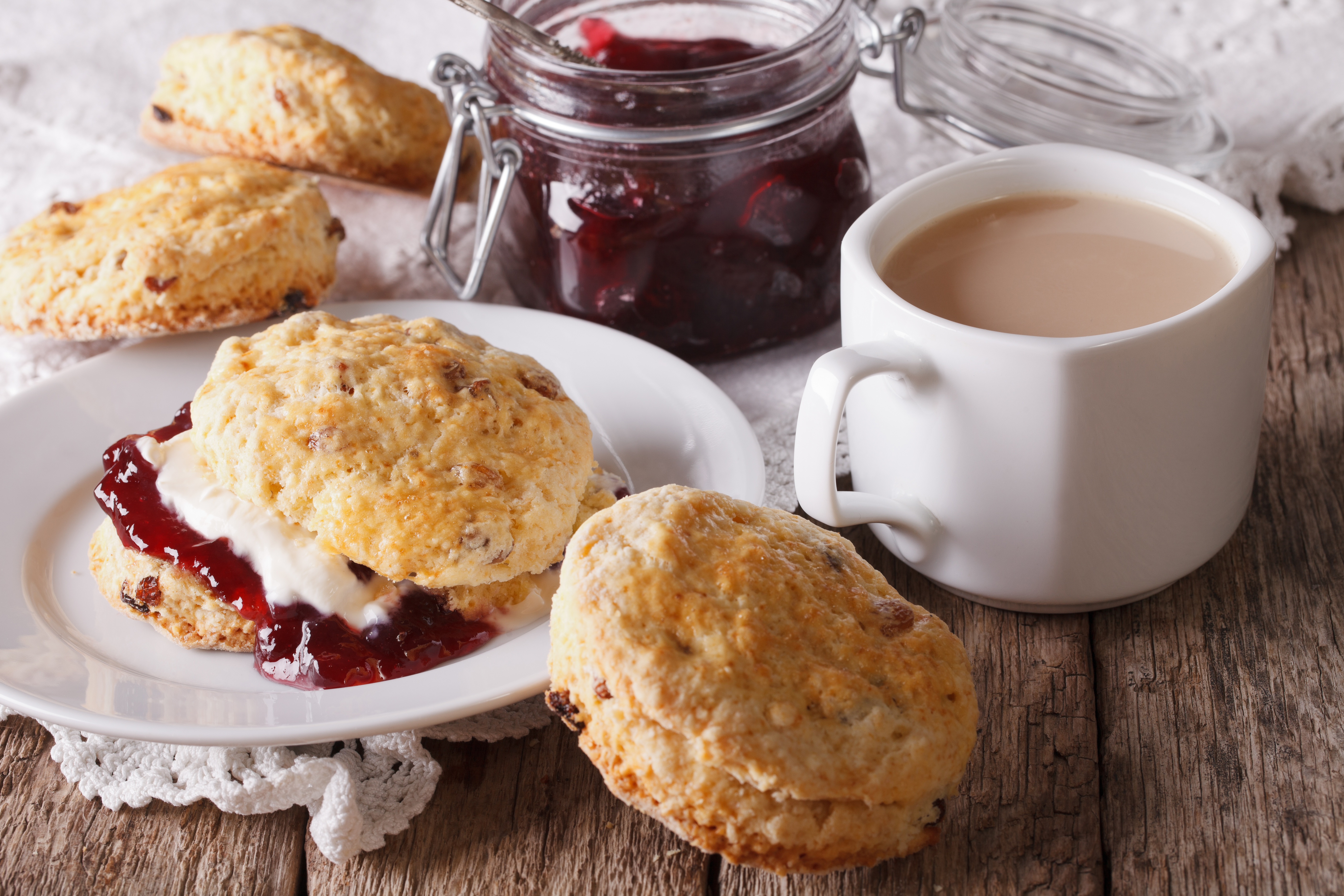 Whether you're all for Cornish cream team (i.e. cream then jam) or Devon-style (jam then cream), you pronounce it sc-on or sc-one, it's no secret that the West Country is home to some of the best cream teas in the country. Seeing as there's nothing better to do on holiday in the South West than getting cosy with a cuppa and a few scones at this time of year, we thought we'd create a list of where you can find the best cream tea in the West Country!
Devon
Tea on the Green, Exeter
Perfectly situated in the Cathedral square, Tea on the Green oozes old world charm. It's an instant step back in time as you walk the cobblestone street into the beautiful historic Tudor-style building. You can enjoy a wide range of gourmet meals, but the cream tea experience is certainly one not to be missed. If you find yourself there on a drizzly day, we recommend taking a seat in the upstairs dining room where you can enjoy a close-up view of the grand Exeter Cathedral. If you're on holiday in the South West during summer and find yourself here on a sunny day, take a seat out on the cobblestone entrance, where you can soak up some sunshine and listen to the local talent often busking nearby.
Anne of Cleves, Totnes
If you were walking the streets of Totnes, there's no way you could resist stopping for a cup of tea and a delightful piece of baking once you saw the window display at Anne of Cleves. Just one glance and your mouth will begin to water as you peruse the vast selection of cakes, slices, scones and baked goods in their large street window. Once you've walked inside to this charming café, you'll be in awe and want to stay for the entire day.
Cornwall
Terrace Tea Rooms, Port Issac
If you venture to Port Issac for your holiday in the South West, you'll already be in a wonderfully relaxed state taking in the incredible coastal views. But, why stop there? Your ultimate relaxation begins once you enter the elegant Terrace Tea Rooms. Feel like a true lady (or gentleman!) of leisure and order their high tea, entailing a selection of cakes, sandwiches and other treats.
Falmouth
Dolly's Tea Room and Bar
Vintage-inspired, Dolly's Tea Room and Bar has become a popular destination for their glorious high teas. Settle in to this cosy and charming tea room and while away the time – naturally with a hot cup of tea and a cream-packed scone.
Dorset
Frieda's Tearoom, Bournemouth
One of the most charming and fun tea rooms you'll ever visit. Frieda's Tearoom has become an absolute hit with the locals, and for good reason. From beautiful décor to delectable cakes, scones and tea, Frieda's Tearoom is somewhere you'll want to visit time after time.
Somerset
Daisy May's Tearoom, Bridgwater
This tearoom is where dreams are made. From rainbow cakes to marshmallow-filled milkshakes, Daisy May's Tearoom is the perfect destination for any sweet-tooth. This charming and girly tea room is a must. If you want to holiday in the South West, why not take a look at our
If you want to holiday in the South West, why not take a look at our holiday homes for sale? Simply enjoying a cuppa with a fresh scone from a local bakery on the deck of your holiday home will definitely hit the spot too!