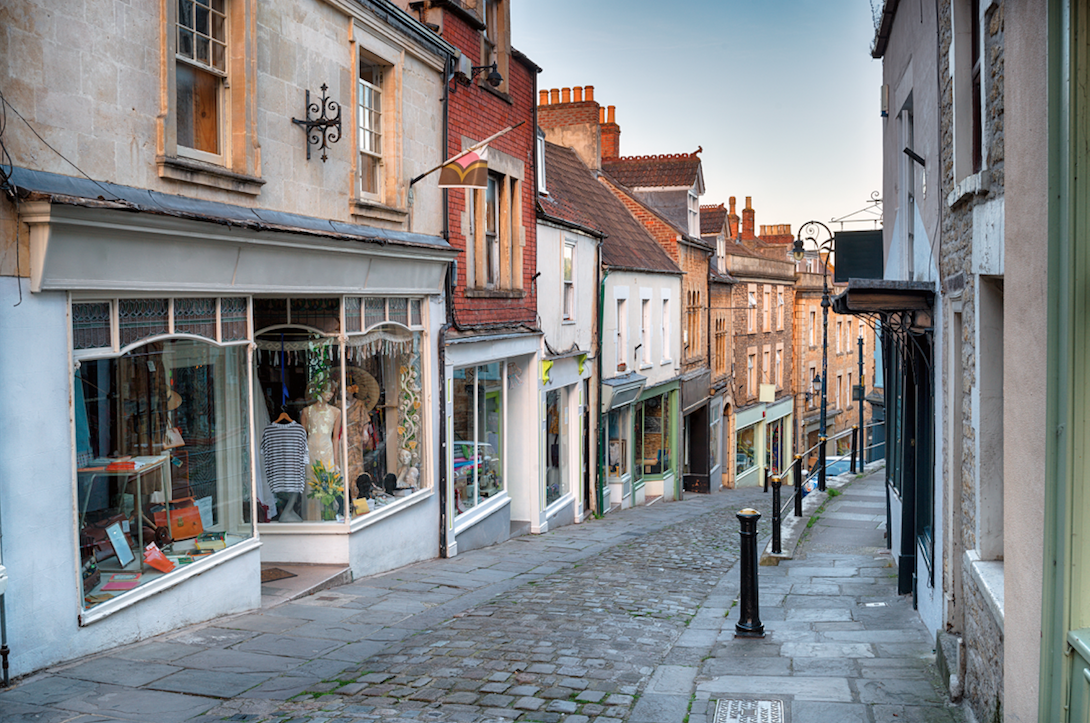 Situated between Bristol and Exeter, Somerset is one of the most beautiful regions in the South West, renowned for its beautiful natural scenery, historic festivals, stunning beaches and quaint small Somerset towns. Whether you're a family looking for a quiet getaway or a young couple escaping the city for a romantic retreat, there is something for everyone in Somerset. A trip to this idyllic region isn't complete without a visit to one of our favourite small Somerset towns.
Frome
This historic market town with a twist is a Somerset treasure; its rich arts community is reflected in the town's abundance of independent shops, galleries and music venues. For a small Somerset town, Frome is busy indeed, holding a range of events throughout the year including the Frome Festival, Ten Days of Music and Comedy, and the Frome Agricultural and Cheese Show. Enjoy a sunny afternoon wandering the cobbled streets or come along on the first Sunday of every month for The Frome Independent, an incredibly popular, thriving street market.
Mells
Arriving at this unspoilt small Somerset town will feel like you are taking a step back in time. Explore the rich history of Mells at the beautiful Walled Gardens or Nunney Castle, before walking along the picturesque, cobbled streets to admire wisteria-strewn cottages on your way to the local shop and pub.
Glastonbury
Famous for the festival that holds its name, this town needs no introduction. Thousands flock to this small Somerset town every year to enjoy days of incredible music and celebration, However, the rest of the year, Glastonbury is a quiet, relaxing locale, with beautiful historic sites such as the Glastonbury Tor, Abby and Chalice Well.
Castle Cary
One of Somerset's best market towns, Castle Cary is a secluded rural village with character in spades. Along with its popular market, the village is known for its abundant selection of local cafes, shops and restaurants. Castle Cary is a perfect location for rambling as the Leland Trail, Macmillan Way and Monarch's Way all pass just by the town.
Selworthy
This quaint Somerset town is located just on the northern fringes of Exmoor, the perfect stop off point before a wander through the park's rugged hills. Selworthy is truly a timeless place, with stunning views of the park and a collection of wonderfully preserved thatched cottages.
For more travel inspiration in and around the beautiful West Country, make sure to follow our blog, where we post advice, ideas and much more. If you are looking to stay in the area, we have a range of stunning new and used static caravans for sale in Somerset. Browse our selection and if you have any questions, please don't hesitate to get in touch.