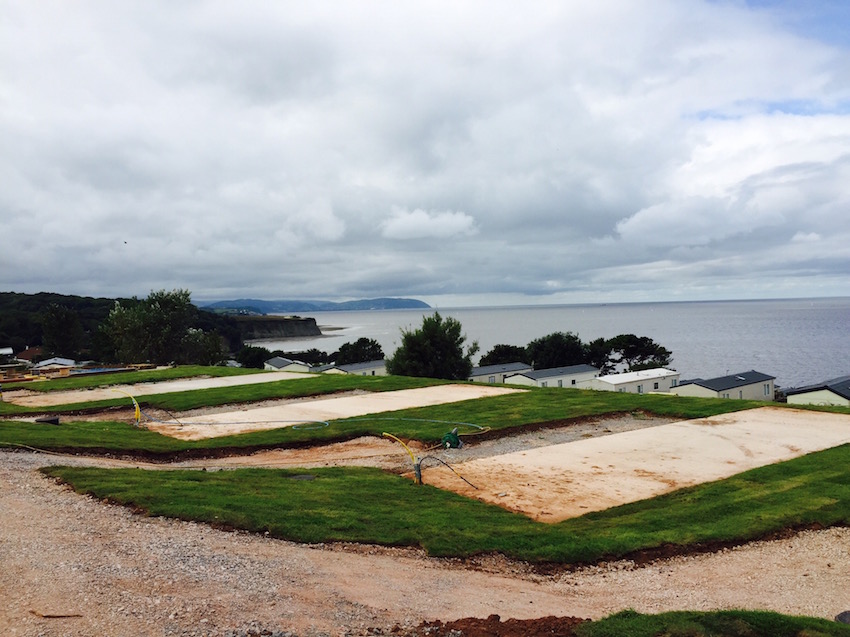 September is set to be a busy month for us here at St Audries Bay Holiday Club in Somerset.  With a wide range of static caravans for sale, St Audries really is worth a visit.
Our new lodge development "Exmoor View" is really gathering pace.
All the concrete bases have been laid, the trench work for the piped gas, water and electric are complete.
We are now in the next phase which includes laying the turf, landscaping and planting.
If you are looking for a luxury lodge in Somerset, you will be pleased to know that we have ordered our first demo lodge which is the 2016 Willerby Winchester , due in October. This 2 bedroom model will be cladded with a Canexel finish and will have outlook French doors to make the most of the sea view. It will be coming with all the extras so will have residential specification and integrated appliances.
In other news, we have a wide selection of used static caravans for sale. Two of our owners have reduced the price of their caravans to ensure a quick sale.
The Bluebird Caprice on Quantock 4 has been reduced to £24,500. The Caprice is situated on a quiet part of St Audries Bay with some smashing views looking over the sea.
The large plot has more than enough room for parking two cars and has huge front and side decking.
The Caprice is in remarkable condition. It looks like new and comes with factory fitted double glazing & central heating.
The site fees and rates included for the 2015 season.
The other reduction is the BK Seville. This beautiful holiday home is in immaculate condition. It is located on a cracking plot, Quantock 2, which boasts gorgeous sea views. It has a large decking area included and plenty of parking. This can be yours for just £21,000.
Our new 2016 Willerby Brockenhurst has now arrived and has been sited on our last empty plot here at St Audries Bay, Somerset.
If you would like to have a look inside, you can watch the video here: http://www.willerbyview.com
The location is on the front line and has wonderful views over looking the sea. This new static caravan is ready to view, so please do come and see us and have a look around.
So, if you are looking for a static caravan for sale in Somerset or a luxury lodge, please call Richard on 01392 271 222 for more information.