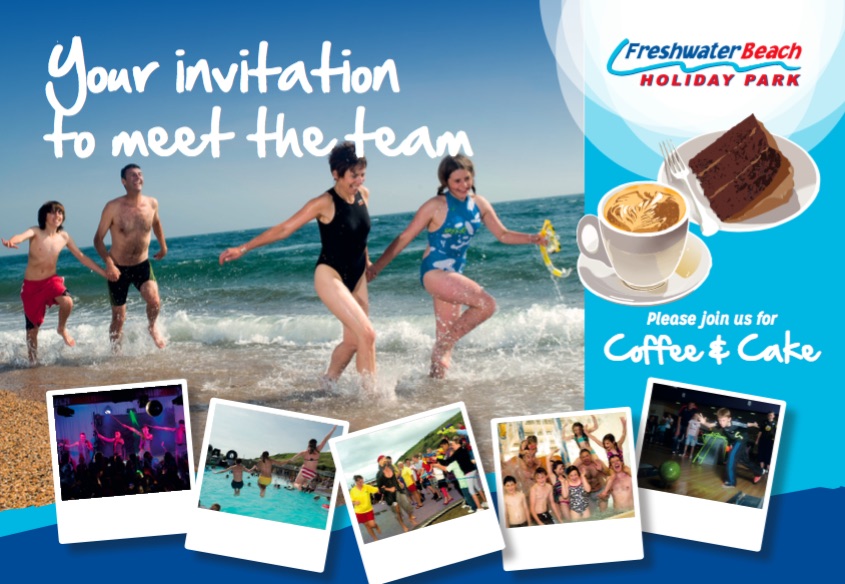 When you become a Caravan Owner at Freshwater Beach Holiday Park we like to do everything we can to make your move here an easy one and to make you feel welcome.
If you are a new Caravan Owner at Freshwater Beach, we would like to invite you to join us for a 'Coffee & Cake' morning to meet some of the management team and some of our other new owners that have recently joined us, plus it helps you and us to put a name to a face!
The event will be held this Saturday in the Sunset Bar between 10.00am and 12:00pm.
We look forward to seeing you!
Still to come this year: Caravan Owners Events:
IT'S A KNOCKOUT  – Atlantic Bar
 – 24th September – 7pm start
As you all had such a competitive streak last year, we would like to invite you to our very own "Its a knock out" event. You will have the opportunity to play in teams and try your hand at the bungee run, giant sumo suits and the pillow bash! There will be prizes for the winners. Drinks and nibbles will be provided. This promises to be a really fun event!
BEAULIEU CARAVAN SHOW  – Beaulieu Estate, Hampshire, Saturday 24th September
Free tickets to the show are available. Please let Jill know if you would like to go, we will need a month's notice in advance please.
TEN PIN BOWLING NIGHT  – Jurassic Fun Centre – 
Saturday 29th October – Please be at the JFC by 6.30pm
Our second Caravan Owner's bowling night for 2016 is being held in the JFC which should make for a brilliant end of season half term bash! Food and refreshments will be provided on the night, so please let Jill know your names and numbers so we can plan ahead!
FIREWORK FINALE
  -Saturday 5th November – Meet at JFC at 9pm
Come and join us and celebrate Guy Fawkes night in style for our spectacular rework display, which is back again this year and promises to be bigger and better.
CHRISTMAS LUNCH PARTY  – Atlantic Bar
 – Sunday 6th November from Midday
Last year's Christmas lunch was one of the busiest we have had in many years. The fun will start at around midday with Mike and his team who will serve up a terriffc lunch with all the trimmings. This will be followed by fun and party games organised by the Activites Committee, which will go on through the afternoon!
It's a great way to end the season and wish everyone a slightly early Merry Christmas and Happy New Year!
Please confirm your names and numbers with Mike in the Complex if you wish to attend. All Christmas lunches must be ordered 1 week in advance.
We look forward to seeing you at the events this year!
You can also click here to browse our static caravans for sale in Dorset at Freshwater Beach.